Our Story:
There is nothing more tragic to us than loss of life so we will do everything we can to prevent this happening. Saving lives and keeping our firefighters safe matters to us.
We are a team of diverse people undertaking different roles but working together to achieve outstanding impact.
We are part of our community - it's where we are from, it's where we have brought up our families. We reflect our area - looking after each other and showing kindness.
Our teams continue to shape our story putting our community at the heart of everything we do.
We have a long and proud history of being bold - a mindset of let's try it - let's do it.
For Merseyside Fire & Rescue Service, good enough is never good enough.
We are our community and we know the part we can play - our place, our culture and our people are what make us great.

Our Vision:
To be the best Fire & Rescue Service in the UK. One team, putting its communities first.

We are one team, leading the way - saving, protecting and improving lives - helping those who need us, with compassion and kindness.
We are driven to transform the lives of our communities.
Our ambition is to tackle the inequality that puts our most vulnerable at risk. The passion to help burns within our people and places us in the hearts of our communities - ever present, ever ready to serve.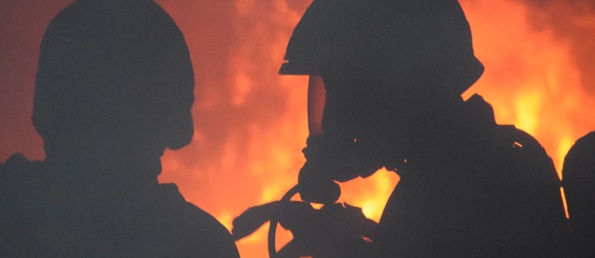 Our Purpose:
Here to serve. Here to protect. Here to keep you safe.
This captures the essence of public service- there is a higher purpose to what we do. We strive to do the right thing at all times and set ourselves high standards as the people of Merseyside deserve it.

Our Aims
Protect
We protect people from harm, provide advice, guidance and when absolutely necessary use enforcement to keep the public and our firefighters safe.
Prevent
We are there for you. We are a visible presence that provides reassurance, support and advice. Alongside our partners, we protect the most vulnerable and reduce inequalities.
Prepare
We will always be the best that we can be by having highly skilled and trained people who plan for every risk and keep our teams safe and effective.
Respond
We will be there when you need us most, pulling out all the stops to save lives. Whether we are taking 999 calls, or attending incidents, we keep our communities safe.

Our Service
We are bold
Embracing new ideas to build on the confidence and trust the community place in us.
We are professional
Always giving our best to the best we can be.
We are safe
Protecting lives and keeping our firefighters safe.
We are built to help
Looking after people and looking after each other.
We are positive
Recognising how far we have come and being positive about the future.
We are relentless
Overcoming barriers to help people feel safe.

Leadership, Values, and Behaviours
Our Leadership Message and Values have been created by our own staff, ensuring that it fully reflects what it means to be part of Merseyside Fire & Rescue Service.  There are also a number of key documents that have informed our Leadership Message, these are outlined below.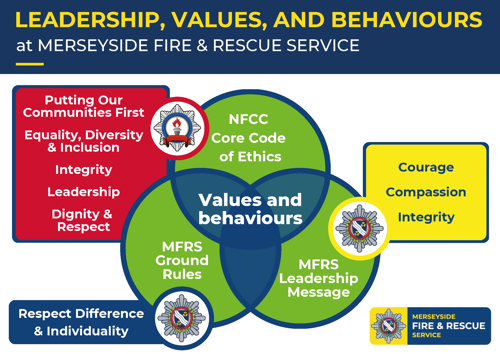 Our Values
We serve with COURAGE
By never settling for the status quo
By being decisive and calm under pressure
By having determination to see things through
By being prepared to fail
By celebrating diversity and being open to new opportunities and challenges
By setting high standards and not being embarrassed for doing so
By challenging ourselves to be better
We serve with INTEGRITY
By doing the right thing even when it is hard or no one is looking
By leading by example
By standing up for what matters
By being open, honest and fair
By making decisions based on facts
By explaining the why
By being consistent
By always doing what we say we are going to do
We serve with COMPASSION
By acting with empathy and kindness
By actively listening - hearing what is being said
By going the extra mile to help
By looking after and supporting each other, noticing what is going on for people
By recognising each other's contribution
By creating a sense of belonging
By embracing and understanding difference
You can find out more in our People Plan here.