Stay Safe From Carbon Monoxide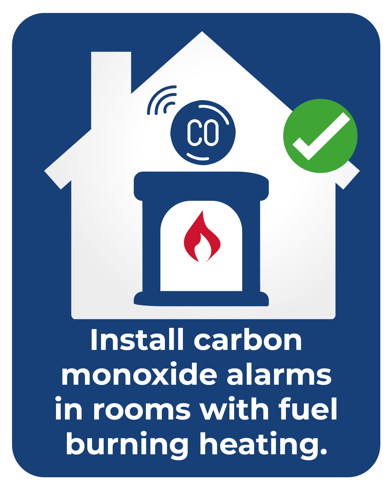 Carbon monoxide (CO) alarms can protect against this poisonous, colourless and odourless gas, produced by appliances which burn gas, wood, oil or coal. CO can make you seriously ill and can be fatal.
CO poisoning can happen within a matter of minutes and is responsible for more deaths than any other single poison. CO can cause permanent neurological damage and other long-term health effects, and in extreme cases, can kill in minutes. Other products of toxic combustion, which are less well known, can be equally damaging to health.
Get a CO Alarm
One way to reduce the risk of carbon monoxide poisoning is to purchase a carbon monoxide alarm, but remember this will only detect CO!
These can be found at any hardware store or supermarket and should be placed in the hallway or sleeping area.
Install a CO alarm in all rooms with fuel burning heating which does not run off electricity
Book a gas safety check now to prevent CO poisoning, gas leaks and explosions in your home. Homeowners, check with your energy provider to see if you are eligible for a free annual check through their Priority Services Register.
If you are a tenant, your landlord must arrange an annual gas safety check by a Gas Safe registered engineer for gas supply, pipes and any appliances that are provided as part of your tenancy.
Please remember that your appliances will still need regular servicing from a Gas Safe registered engineer if your appliance is gas or an OFTEC registered engineer if an oil fired appliance.

If your carbon monoxide alarm sounds, turn all appliances off, leave your home immediately and go straight to A&E saying you may have been poisoned by carbon monoxide. When you return home, ventilate your home well - DO NOT TURN YOUR APPLIANCE BACK ON!
Arrange for your appliance to be inspected by a specialist engineer and environmental air sampling expert in order to establish what toxins are emanating from your appliance, in what quantities and over what period of time you may have been exposed to these various toxins.
This information will be very important to your medical team in order to give you the correct treatment.
Only after you have carried out these tests should you then replace or have your appliance repaired by a suitably qualified engineer.
Do you live in a rented property?
The Smoke and Carbon Monoxide Alarms (Amendment) Regulations 2022 came into force on 1st October 2022. As part of the regulations, landlords must:
1. Ensure at least one smoke alarm is equipped on each storey of their homes where there is a room used as living accommodation. This has been a legal requirement in the private rented sector since 2015.
2. Ensure a carbon monoxide alarm is equipped in any room used as living accommodation which contains a fixed combustion appliance (excluding gas cookers).
3. Ensure smoke alarms and carbon monoxide alarms are repaired or replaced once informed and found that they are faulty.
The requirements are enforced by local authorities who can impose a fine of up to £5,000 where a landlord fails to comply with a remedial notice.