Home Fire Safety
If you live in Merseyside, you can phone 0800 731 5958 for free fire safety advice or to request a Home Fire Safety Check visit*, where free fire safety advice will be given, including the importance of having working smoke alarms on each level of your home and making sure everyone knows how to escape if a fire were to start.
Many residents on Merseyside will be eligible for the fitting of free smoke alarms, particularly those over the age of 65 and anyone who is referred to us by one of our partner agencies.
Requesting a visit can be particularly important in the case of an elderly or vulnerable friend or relative, or someone who may have mobility issues or sensory impairment.
You can request a Home Fire Safety Check for yourself, a neighbour or relative.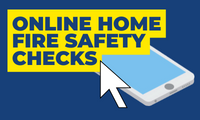 We also offer an online Home Fire Safety Check tool for use by Merseyside residents. The tool, created by the National Fire Chiefs Council, can be accessed be accessed by clicking the button to the left.
By using the online tool, people can explore whether they – along with loved ones or neighbours – could be at greater risk from fire. The innovative tool offers help and advice and will automatically trigger a visit from MFRS if a person is noted as being at higher risk.
If you are, or you know someone who is deaf or hard of hearing, there is important information on our website on this page Advice for those who are deaf and hard of hearing.