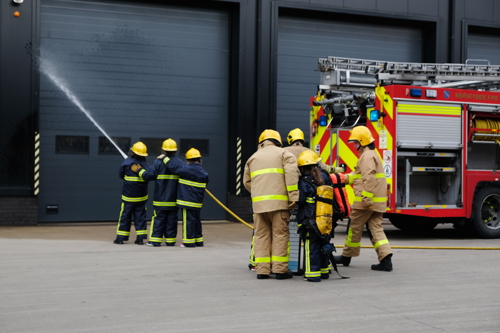 A 12-week (one day a week) alternative education programme, run during school term times.
The programme is designed to engage with young people from primary school age to 19 who meet one of the following criteria:
At risk of exclusion from mainstream education
NEET (Not in Employment Education or Training)
Disengaged as they don't always have the chance to join in eg. Looked After Children, Young Carers, Young People with Disabilities, Young People from Ethnic Minorities
Activities include: Practical fire service activities (using hoses, fire extinguishers, youth breathing apparatus, hydrants, foam, search & rescue techniques), Teambuilding activiites, Outdoor Pursuits, First Aid, Health Awareness, Road Safety, Water Safety, Community Safety Awareness (hoax calls, arson, safety in the home, bonfire & firework safety).
Aims
To instil fundamental fire service principles of self discipline, leadership & teamwork
Develop wider key skills in communication, problem solving, working with others
Limit social exclusion
Objectives
Reduction in the number of pupils excluded from mainstream education
Positive engagement with vulnerable young people
Engage & educate young people to create fire safe citizens
Gain qualifications to enhance employment prospects
For further information please contact Karen Metcalf on 0151 296 4603 or email KarenMetcalf@merseyfire.gov.uk